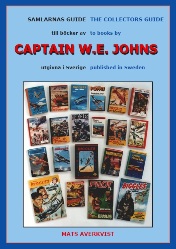 Samlarnas Guide till böcker av Captain W.E. Johns är en bibliografi över den engelska författaren William Earl Johns (1893-1968) produktion utgiven i Sverige. Några av hans alster är Biggles, King, Rex och Worrals. Det var i början av 1940-talet som det började att komma översättningar av de berömda Bigglesböckerna. Dessa kom att spela en mycket viktig roll i ungdomslitteraturen ända fram till slutet av 1980-talet, trots att de blev bannlysta på biblioteken. Det var från början två förlag som konkurrerade om utgivningen, Bonniers och Bo Wahlströms förlag. Bonniers hade sin bokserie Önskeböckerna. Wahlströms hade B. Wahlströms ungdomsböcker med de gröna ryggarna.
Som komplement till denna bok kan man använda boken Biggles i Sverige av Stefan Mählqvist (1983). Den ger en omfattande bild av W.E. Johns, Biggles och utgivningen i Sverige. På några punkter däremot saknas det information. Den här boken kan dock inte anses som komplett. Det har nämligen visat sig under sammanställningen att det har dykt upp noveller och tecknade serier som förut inte var kända av W.E. Johns-kännare. Så troligen finns det säkert fler verk av Johns utgivna i Sverige att upptäcka.

The Collectors Guide to books by Captain W.E. Johns is a bibliography containing work by the English writer William Earl Johns (1893-1968) which is published in Sweden. Some of his characters are Biggles, King, Rex and Worrals. In the beginning of the forties the famous Biggles books were translated into Swedish. These became a major part of juvenile literature, despite being banned by the libraries. From the beginning there were two publishers who competed about the publishing, Bonniers and Bo Wahlströms publishing. Bonniers had their series Önskeböckerna and Wahlströms had B. Wahlströms ungdomsböcker with the green spines.
As a complement to this book you can read Biggles in Sweden by Stefan Mählqvist (1983). Although this book gives you an overview of W.E. Johns, Biggles and the publishing of his books in Sweden, it is by no means complete. During the work with this book new material has been discovered that was previously unknown. Probably there is more material to be discovered.